02/03/2018 Dear all. It is with great regret that we have had to take the decision not to attend Kettering this weekend. This is due to the extreme weather we are experiencing. Anyone with collections or orders for the show will be entitled to free postage until Monday. Please contact us in the usual way. Sorry for the late posting of this info.
12/03/2018 At long last we have managed to update all the instructions to incorporate the new power bogie! You might think that would just be a simple cut and paste job, not quite, as it turned out. From the beginning of March all the DMUs will include the new power bogie. Some customers who purchased a DMU without a power bogie should now have received the new unit, but WITHOUT instructions as they weren't ready. For those customers please download the Power Bogie Instructions from the Download page to assist you. If you have any problems just drop us an email and we will sort it out with you. We are sorry it's taken so long to bring this update to completion, but we think you will agree it was worth the wait. Do let us know what you think.
27/02/2019 It's been a long time since this page has been updated due to 2018 being quite a difficult year for the wider Easy-Build family, however 2019 will see new developments that we have been considering for some time. If you are viewing this page before the Gauge O Guild Kettering show in March you will be able to see our first ideas for our new BR MK1 Pullman stock. We have received many requests for these over the years, but simply didn't have the time to develop the product. We also hope to fill the remaining gaps in the mainline coaching stock and start work on a couple of DMUs.
14/03/2019 It's been brought to our attention that there are a number of our BR1B bogie sideframes that have not been fully moulded - see the photograph below. We do not know how many have been packed with this fault, so would advise you to check your bogie components before begining construction. Should you have any of the affected components please return them to our Camelford address for replacemnt - don't forget to include a return address!
This problem does not affect any other bogie types, it is confined to the standard BR Mk1 bogie the BR1B, all our other bogie types are unaffected. Please accept our sincere appologies for this lapse in our quality control system, but all affected items currently in stock have been removed and new stock ordered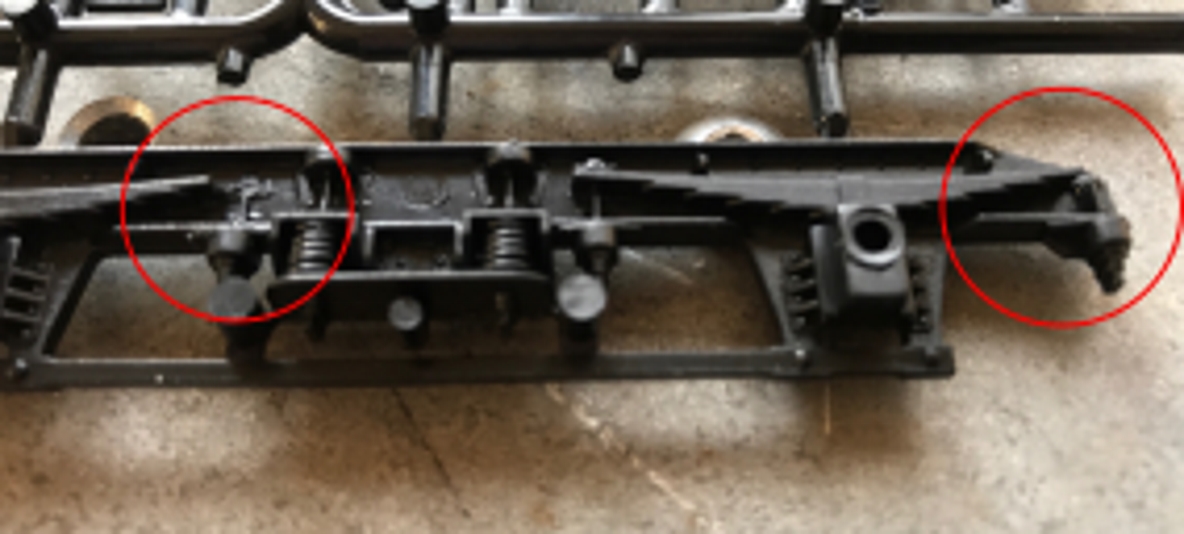 15/03/2019 Having now found time to update the Your Work pages I have somehow managed to lose the names of some of the contributors. Not wishing to leave the images unshared for even longer, they are being shown as an Unknown Builder. I will look for the mislaid information to credit the work appropriately, but would ask you to contact us if your work is not credited correctly so we can do so as soon as possible. Thank you all for sharing your hard work.
Next Show: Gauge O Guild Kettering Show 2nd March 2019 - Do come to the stand and say "Hello".
That's it! Thank you for visiting the site.